Hey there,
It's been a while I know, I know- but I've been busy busy busy.
I left for Manchester June 22nd so I had a few weeks before that where I worked at The Beguiling cleaning up the warehouse and eating my way through Sky Blue Sky's sandwich menu. (Please go there and have a 'Dreamer In My Dreams' for me- god I miss that place!)
So here's just a few photos from early to mid June- it was stressful as I packed and tried to get rid of pretty much 80% of the stuff I owned while working 10 hour days.
Hair before I chop chopped it

The tall piles of VHS that I got rid of

One of my favorite streets in Toronto- Palmerston. Made sure to take some time to walk down it one more time before I scooched.

Hair after I chopped it

I had a goodbye party before I left but of course my camera broke as I was going to take my first photo at the event. *sob* So I will hopefully be acquiring a new one soon if you have any good camera suggestions please feel free to drop me a line. I'd ideally like to avoid batteries, I don't want anything too fancy or big- just something that takes good photos. Oh, the digital age- (Previous camera was a Sony Cyber-Shot so I was pondering just getting a newer make of the same thing)
I know that other people did make a point in taking photos because I failed miserably in that department so as I get a hold of some of those I'll make sure to make another post.
The flight went well and everything was cool- but I have to admit I was pretty jumbled by that point. Maybe even an emotional wreck- but I kept it all internal for the most part. I'd just sold everything I owned and given what little was left to my folks- I was unemployed, moving to a new city in a new country- just felt a little drained. On top of everything I was trying to keep everyone else's emotional states in mind and not hurt anyone's feelings- see as many people as I could before I left, make sure my mum, dad and sister were okay- make sure I remembered how to do the girlfriend thing… bah. I think just at the end I wanted to push everyone away and have some solo time to digest but instead I hopped on a bus with Adam and made my way to Glastonbury. Not something I regret for sure but it probably wasn't my wisest decision.
I am happy to report that now I'm doing way better, adjusting to my surroundings, rekindling friendships with many of the lovely people I haven't seen since March- I even found a book club! *swoon*
Got a fantastic new apartment for August 1st with Adam and I'm working on getting employment at the moment which will give me the ability to get a bank account and a proper phone & plan.
But talk about an experience… geeezus. If you want to force yourself into thinking entirely different about things- try to get rid of all your material possessions. Try to push through an epic pile of change and give a brave face to everyone when you really just wish someone would pull you aside and tell you it'll be okay. *phew*
But I made it. Just reeling a bit looking back. Makes one wanna shout "HOLY SHIT!"
Entirely. Worth. It.
/emo
But onto Glastonbury!
I saw the following bands-
Friday:
-The Magic Numbers
-Peggy Sue
-Lissie
-a bit of Miike Snow
-TEGAN AND SARA woo!
-Phoenix
-La Roux
-Vampire Weekend
-Florence and the Machine
-Hot Chip
-THE FLAMING LIPS!
(this was clearly the most epic day- where I actually had a lot of conflicting gigs- faaaannntastic)
Saturday:
-The Phenomenal HandClap Band (who to be honest, weren't so phenomenal :( sorry!)
-tried to see The Wurzels and failed because it was way way too crowded
-Imogen Heap
-Kate Nash
-The National
-a bit of Marina and the Diamonds
-Foals
-listened to the Scissors Sisters while getting changed heh
-THE XX again WOO!
-Muse (I heard the Pet Shop Boys were AMAZING so a part of me wishes I would have seen some of their set)
Sunday:
-Frightened Rabbit
-The Bees
-listened to quite a bit of Tunng from a distance
-then we watched England lose during the World Cup BOO- I should have gone to see Holy Fuck instead but I talked myself out of it thinking "the World Cup only comes around every four years and I'll surely see Holy Fuck some time in the next four years".
-The Drums
-We Are Scientists
-MGMT (probably should have opted for Broken Social Scene)
-Stevie Wonder
I could ramble on about how awesome this fest is- how it's been around for 40 years, it's the largest in the world and that over 200,000 people attend blah blah blah- but you can use Wikipedia for that surely.
Here's a bunch of photos taken on Adam's iPhone you can see the full set on his flickr here.
Woo! first Kayla at Glasto pic

Pretty flags!

Adam enjoying a Vimto pop!

The trees have eyes! …quite a few of them did actually…

I had a bit of a moment here I'm not gonna lie- I've loved Tegan and Sara's tunes for ages. AGES. I had never seen them live. Quite literally I was out of the country or unable to attend their concerts for legit reasons every time they came to Toronto- so I'd waited for ages for this to actually come together- to actually be in the crowd at a Tegan and Sara performance.
*SWOOOON*
Moving along…
La Roux

Crowd at La Roux- very different from my Toronto concert experience

Me watching Vampire Weekend

Vampire Weekend

Florence and the Machine

The Flaming Lips- which were easily the best damned thing I saw (after Tegan and Sara of course)- they put on an epic show with incredible treats for the audience. I even teared up near the end.
Hamster Ballin'

Confetti- so much 'fetti

Green lazers- impressive

The next day Adam and I ran into He-Man and She-Ra

The next bunch are from many art installments and whatnot around Glastonbury- really neat stuff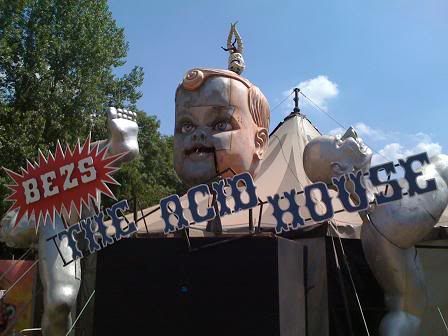 Muse

Adam outside our cow tent, with my Kate Nash flag on the last night- heading over to see Stevie Wondah!

Sunset over the tents

The view from our campsite of all of Glatonbury- I recommend clickin' on this sucker to get a better view, entirely worth it

Path up to our tent

Me with my pork pie hat – at least that's what Adam was calling it. Actually it was a gift from Adam.

Adam and Me

This photo really doesn't do it justice, but this was the crowd for Stevie Wonder, actually- just part of the crowd. There were SO many people there. I have never seen, or participated in such a huge crowd in my entire life.

More of the Stevie crowd

Our crew, Beth, Kristian, Paul and Adam (Ruth is missing sadly- she had to head home early)

So there you have it- a recap.
Any other comment I need to make is this: After going to Glastonbury and seeing how lax the security was, how they allowed people campfires, to play with flares, to light Chinese lanterns and throw them into the sky in the middle of the hugest crowds in life- how people could drink openly and freely etc etc etc I have renewed faith in humanity as there were no accidents or fatalities (at least that I'm aware of)- people were respectful of one another and they did so on their own accord without a metric shit ton of police officers and security telling them to do so. It was nice. It freaked me out at first because I'm used to things being so … just intense. I'm used to getting searched all the time and watching out for other people to make a mess of things. It was nice to just relax and trust the people around me to be respectful.
That is all. It was fantastic.
/ramble
Hopefully, more soon-
K
Tags: 2010, Adam Cadwell, Beth Stratford, cow tent, Florence & The Machine, Glastonbury, Kristian Downs, La Roux, Manchester, Muse, Palmerston, Paul Riddlesworth, Stevie Wonder, Tegan and Sara, The Beguiling, Toronto, UK, Vampire Weekend